Lead the way
We're geared up to empower young people with learning and leadership opportunities in STEM to grow next-generation representation. A brighter future calls for diverse changemakers today.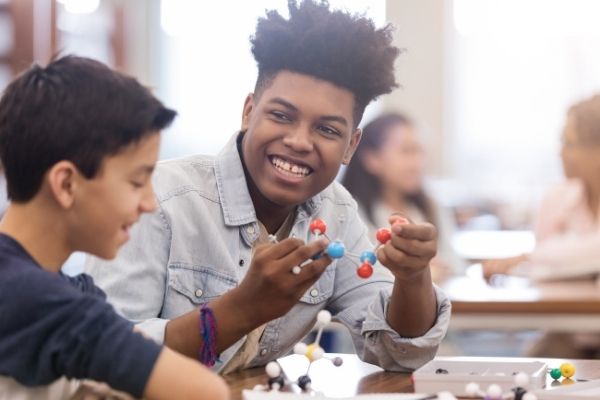 ---
Leader In Training Program
9th-12th grade in Fall 2023
Program Description
The Leader in Training (LIT) volunteer program, designed for teens entering 9th-12th grade in fall 2023, combines leadership development, science education, and environmental stewardship into one exceptional experience! Selected participants will develop their leadership abilities, responsibility, and independent decision-making while demonstrating their public speaking skills and scientific knowledge. Partnering with CuriOdyssey Educators, LITs help facilitate camp activities, prepare camp materials, and supervise campers for Camp CuriOdyssey 2023.
Time Commitment
Required Training: June 12-16, 2023 (9:00 am – 4:00 pm each day)
A minimum of three weeks (120 hours) of Camp CuriOdyssey support between June 20 and August 18, plus ten hours of volunteer service during the academic year.
Application Process: The applicant must complete their application and obtain two written recommendation letters by 5:00 pm on Wednesday, March 15, 2023. Applicants will be contacted within two weeks regarding their application status.
Major Responsibilities:
Assist staff in facilitating science-based activities
Supervise and be a positive role model for campers/visitors
Assist staff in preparing program materials and activities
Engage youth in student driven science/engineering activities
Desired Qualities:
A creative and curious person to be a good role model for children
Interest in STEM and the natural world
Responsible, and willing to take initiative
Works well with others
Physical Demands:
The physical demands herein are representative of those that must be met by an LIT to successfully perform the essential functions of this position. Reasonable accommodations may be made to enable individuals with disabilities to perform these essential functions.
Environment: Volunteer work is conducted at CuriOdyssey and immediately local space at Coyote Point. Camp will take place indoors and outdoors in various weather conditions.
Mobility: Physical ability and endurance to occasionally carry and lift heavy materials, up to 50 pounds. Frequently move from a sitting to a standing position. Traversing uneven surfaces, bending, reaching, sitting on the floor with children, and twisting are daily repetitive physical actions.
Required Training:
Leadership Development Training, June 12 – 16, 2023, is required for first-year LITs.
Topics will include:
Enhancing your communication skills
Science and engineering concepts and practices
How to engage with campers in meaningful science experiences
What it means to think critically and solve complex problems
Centering diversity, equity and inclusion
LITs must be able to attend the full training, Monday – Friday, June 12 – 16, 9:00 am to 4:00 pm each day
Minimum Time Commitment:
Once the training is complete, LITs must contribute a minimum of 120 hours of volunteer service between June 20 and August 18, 2023. This service is generally three full weeks of camp, volunteering 8:00 am – 5:00 pm. Please note we will not be having camp on June 19th, July 3rd and 4th.
LITs are welcome and encouraged to volunteer more than 120 hours.
Volunteer schedules are determined and confirmed by early May.
In addition to the summertime commitment, participants must also complete ten hours of facilitating activities alongside CuriOdyssey staff at any of CuriOdyssey's public programs or events between October 2023 and May 2024. This will enable you to continue to learn and practice your leadership skills year-round.
Training fee: $35
Scholarship funds available. In the application, applicants may request financial assistance to cover the training fee. Ability to pay for training will NOT affect the selection process.
To Apply
Please submit the Google Form application and recommendation letters no later than 5:00 pm on Wednesday, March 15, 2023. You can send recommendation letters by email to rbenedict(at)curiodyssey.org.
LIT Program Contacts
Romina Benedict, Childhood Education Specialist:
rbenedict(at)curiodyssey.org
Alexis Bullock, Education Programs Scheduler and Liaison:
abullock(at)curiodyssey.org, 650-340-7598
---
Leadership Development Program
9th – 11th Graders
In this year-round CuriOdyssey program high school-aged youth will be able to explore and answer some of the following:
Do you want to develop your leadership skills, meet STEM professionals and college students, and connect with like-minded peers? In this collaborative program, you will learn the skills necessary to be strong STEM leaders and advocates in your community through activities, portfolio building, meet and greets with local STEM professionals and college students, and more. Learn more about our Leadership Development Program here.
How Do I Apply?
You can apply via our application below. The application is open now through December 3rd at 11:59 pm. Please note that we require parent/guardian consent for all youth volunteers. Applications are reviewed on a rolling basis.
FAQs
Program Timeline?

Application: This program has a fall application process. For Fall 2022, our application is open now through December 3rd at 11:59 pm.

School Year: November through May, participants will meet every other Saturday for leadership development, STEM activity facilitation in CuriOdyssey Education Programs, and career readiness workshops. Participants are required to volunteer for a total of 40 hours during the school year.

Summer: June through August, participants will support Camp CuriOdyssey, serving as mentors for 5th and 6th-grade campers. Participants are required to volunteer for 3 weeks during the summer.
Who can participate?

All 9th – 11th-grade high school students in the Bay Area are welcome to apply.

All STEMCorps programs aim to amplify voices and empower youth from historically underrepresented STEM groups such as those who identify as women and/or Black, Indigenous, and People of Color (BIPOC).
Why choose CuriOdyssey's STEMCorps program?

CuriOdyssey is a unique museum and AZA zoo located in Coyote Point Regional Park. With an incredible location and breathtaking views, this high school program will allow participants opportunities to connect with outdoor and indoor spaces. Participants will have access to resources for them to take charge of their STEM education and career exploration. Program participants will develop leadership & critical thinking skills by meeting STEM professionals and college students while also providing volunteer service hours and hands-on experience in a museum and zoo setting.