Lead the way
We're geared up to empower young people with learning and leadership opportunities in STEM to grow next-generation representation. A brighter future calls for diverse changemakers today.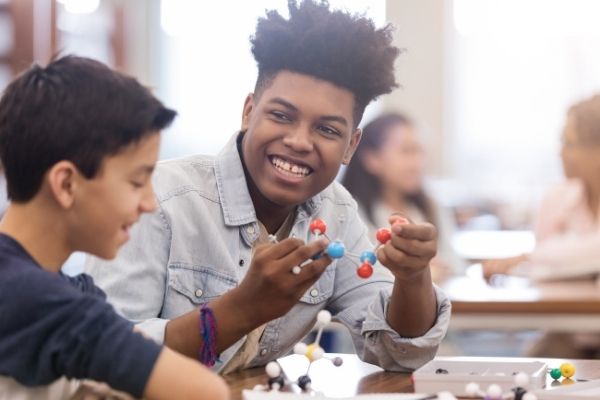 Leadership Development Program
9th – 11th Graders
In this year-round CuriOdyssey program high school-aged youth will be able to explore and answer some of the following:
Do you want to develop your leadership skills, meet STEM professionals and college students, and connect with like-minded peers? In this collaborative program, you will learn the skills necessary to be strong STEM leaders and advocates in your community through activities, portfolio building, meet and greets with local STEM professionals and college students, and more. Learn more about our Leadership Development Program here.
How Do I Apply?
You can apply via our application below. The application is open now through December 3rd at 11:59 pm. Please note that we require parent/guardian consent for all youth volunteers. Applications are reviewed on a rolling basis.
FAQs
Program Timeline?

Application: This program has a fall application process. For Fall 2022, our application is open now through December 3rd at 11:59 pm.

School Year: November through May, participants will meet every other Saturday for leadership development, STEM activity facilitation in CuriOdyssey Education Programs, and career readiness workshops. Participants are required to volunteer for a total of 40 hours during the school year.

Summer: June through August, participants will support Camp CuriOdyssey, serving as mentors for 5th and 6th-grade campers. Participants are required to volunteer for 3 weeks during the summer.
Who can participate?

All 9th – 11th-grade high school students in the Bay Area are welcome to apply.

All STEMCorps programs aim to amplify voices and empower youth from historically underrepresented STEM groups such as those who identify as women and/or Black, Indigenous, and People of Color (BIPOC).
Why choose CuriOdyssey's STEMCorps program?

CuriOdyssey is a unique museum and AZA zoo located in Coyote Point Regional Park. With an incredible location and breathtaking views, this high school program will allow participants opportunities to connect with outdoor and indoor spaces. Participants will have access to resources for them to take charge of their STEM education and career exploration. Program participants will develop leadership & critical thinking skills by meeting STEM professionals and college students while also providing volunteer service hours and hands-on experience in a museum and zoo setting.